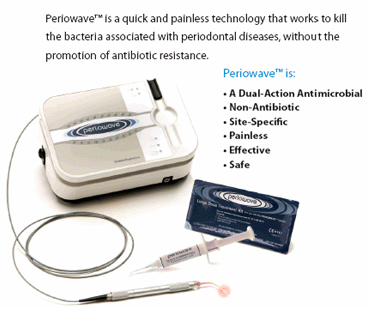 Periowave is effective in the treatment of periodontal disease. Eradicating the bacteria halts the progression of the disease and allows healing to begin.
Periowave is a non-antibiotic disinfection system that consists of a low-intensity diode laser and photo-disinfection solution offered in one-time use disposable treatment packs. The solution is topically applied to the treatment site and preferentially stains pathogenic microbes at this site. Once activated by the Laser, the sensitizer quickly destroys the pathogens as well as pathogen-associated virulence factors. The photo-disinfection process does not encourage the development of antibiotic resistance.
Periowave is painless, quick, non-antibiotic, safe and effective.
Ask your Dentist or Dental Hygienist about effective treatments for Periodontal diseases.