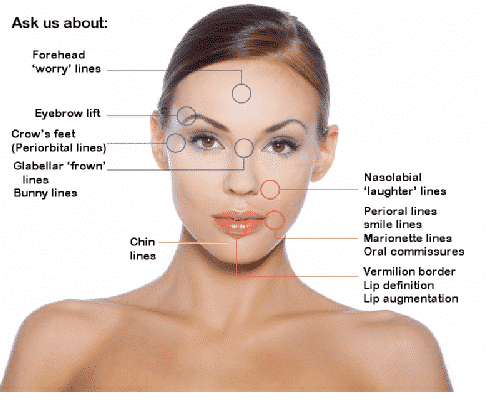 What is Botox? 
Botox therapy for wrinkles is an injection treatment designed to reduce facial expression lines.  Botox is a trade name for Botulinum purified protein complex.
What does it do?
When tiny amounts of Botox are injected into the facial muscles responsible for movement, those lines that are wrinkles directly associated with this muscle movement are diminished by weakening of the muscle.
How long does it last?
Botox therapy is temporary, meaning it will have to be repeated on a regular basis to remain effective.  An average response is 3 to 6 months of diminished muscle contraction, although there have been reports of more than 6 months of efficacy following a single injection.
Are there any permanent side effects?
There are no known permanent side effects of Botox therapy for wrinkles.  Botox therapy has been used for wrinkles since 1987, and is considered an extremely safe procedure by doctors.  Some temporary side effects may occur and will be discussed at your New Patient Botox Consultation.
How much does it cost?
The price of Botox depends on the amount of Botox injected, which varies from person to person.  The price is based on units of Botox injected.  A New Patient Examination will be required prior to proceeding with Botox therapy.
Why is a Dentist offering wrinkle treatment?
Dr. Bishara offers Aesthetic Medicine to assist in enhancing a patient's satisfaction with his/her physical appearance.  Dr. Bishara's training in Dentistry creates perfect synergy between her expertise in restorative cosmetic dentistry and complete knowledge of all the facial muscles to enhance a patients overall cosmetic experience.
How do I schedule an appointment?
Dr. Bishara requires an initial one hour New Patient examination. This appointment will assess you're dental health, complete review of your medical history including a full assessment of your facial muscles. Please contact our administrative team for further details in setting up your new patient file.