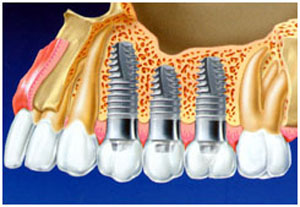 Dental Implants – Are they for me?
Missing teeth can lead to a decrease in quality of life by affecting how we eat, speak, rest, appear and consequently behave. There are many acceptable ways to replace missing teeth, but the use of dental implants has become one of the preferred techniques in the last 35 years for many patients
What is a Dental implant?
Dental implants are small screws made out of titanium to replace missing teeth. Titanium is the only metal we know that the body accepts and allows bone to grow in and around it. By placing an implant in the jaw bone (where the natural tooth root was), we can anchor replacement teeth and thus restore the patient to full function. Restoring comfort, function, aesthetics and preserving the natural anatomy are the primary treatment goals in replacing missing teeth with dental implants.
How can dental implants be used to replace missing teeth?
Replace one or more missing teeth without affecting adjacent teeth
Support a bridge (where multiple teeth are tied together to span a larger gap)
Provide support, retention and stability to removable partials and dentures
Benefits of Dental Implants:
Reduces the need to cut down adjacent teeth for bridges – retains as much natural anatomy as possible
Helps preserve the remaining natural bone structure
Supports the face shape and smile
Eliminates the need for removable partials and dentures – and the sores that may go along with them
Provides an option for leaving the roof of the mouth uncovered by removable partials or complete dentures
Look, feel and function just like natural teeth
Provides confidence in eating, speaking and smiling
For more information on implants, please ask Dr. Verheyen or Dr. Lauwers at your next visit.