GO AHEAD… Stick your tongue out!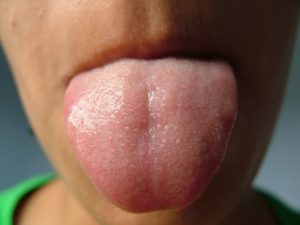 Your tongue can give you clues about problems in your mouth. Go ahead… stick out your tongue and look in the mirror. A healthy tongue should be pink and covered with small nodules (papillae). Any change from your tongue's normal appearance, or any pain, may be a cause for concern.
Some common problems associated with the tongue include:
discoloration,
increased size,
abnormalities of the surface,
growths (bumps), pain,
taste concerns, and
difficulty with movement.
Is it possible to prevent tongue problems?
Some tongue problems are preventable by practicing good oral hygiene and eating a healthy, nutritious diet. Some tongue conditions cannot be prevented at all, but symptoms may be managed with treatment. Other tongue problems may be a by-product of an underlying medical condition that needs to be addressed.
What to know about your Tongue
Tongues need a cleaning
Trapped germs on the tongue can lead to bad breath and affect your sense of taste, and the bacteria can travel to other parts of your mouth. Overgrowth of bacteria can turn your tongue yellow, white or even black and hairy-looking.
Make it a habit to thoroughly clean your tongue every time you brush your teeth. You can use a tongue cleaner, a small tool designed to scrape the tongue; it comes in various shapes and sizes. Your regular toothbrush will also do the job. Try to reach right to the back. If this triggers your gag reflex, keep trying. Eventually, your reflex will ease up. You might also find that a tongue cleaner doesn't trigger the reflex as easily as a toothbrush does.
Tongues don't like to be ignored
If a tongue hasn't had much attention, it may be coated and crusty. People who have problems with physical dexterity or rely on others for oral care, are mouth breathers or take medications that dry the mouth may be more likely to have a coated tongue.
If your tongue is too dry and crusty when you scrape it, you risk damaging the tissue. Try brushing it after cleaning your teeth, while the mouth is still moist. You can also cover your tongue with a mouth-moisturizing spray or gel and wait 10 to 15 minutes, then brush it.
Tongues can get cancer
About 2,400 Canadians will be diagnosed with oral cancer this year, often only after it's advanced. That's because many oral cancers are missed in their early stages. A regular self tongue inspection-say, once a week-can help to screen for oral cancer. Stick your tongue out in the mirror and look around. Check the top, bottom and sides. Look for any skin changes, cuts or white or red patches that aren't healing after a week or two.
Your dentist or dental hygienist should be examining your tongue during regular appointments and may perform a yearly "Velscope" Oral Cancer Screening.
Bling on your Tongue
Any body piercing carries a risk of infection. The risk of infection with tongue piercings is higher because our mouths are already loaded with bacteria. Plus, the metal in tongue jewelry can badly damage your teeth and gums, wearing away enamel, loosening gums and cracking teeth. Even the tongue-piercing procedure itself has been known to damage nerves causing permanent drooling or altering the sense of taste.
Dentists generally do not encourage tongue piercings. But if you're keen to go ahead, make sure you use an experienced artist and that you're well informed about possible complications and how to manage them.
"Your Partner For Your Smile"   
Visit   www.shaughnessydental.com
Follow us on Instagram @shaughnessydental
Follow us on Twitter @ShaughnessyDen2
Comments are closed